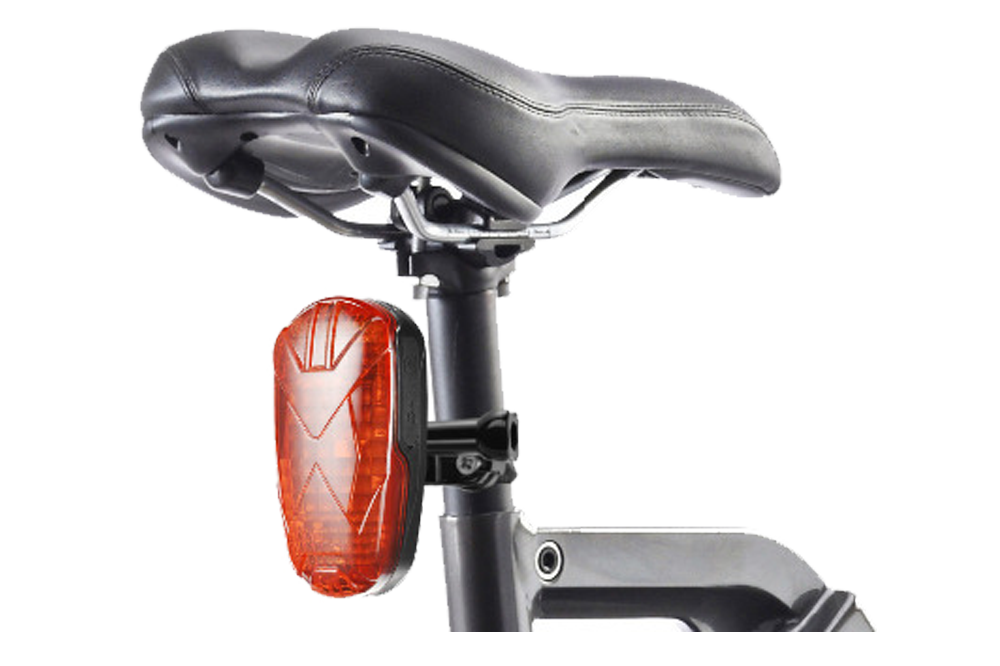 Back2you.com  Bike Light Tracker
What they say: This tracker is the perfect cross between a regular bike light and a GPS tracking device.
What we say: OK, let's kick off with what looks like this tracker's biggest con. If a bike thief is familiar with this product he's going to know from the get-go that your bike has a tracker fitted to it – and as removing this integrated bike light and GPS unit takes no more than a minute that makes the Guardian a bit pointless, right?
Well, no, actually. Bike thieves tend to target the easiest prey, so anything that's going to slow them down will at least act as a deterrent.
And if they're not familiar with it and your bike does get swiped, then you've got an efficient GPS device attached to it that's hiding in plain sight.
The tracker is rechargeable via a hidden USB port (battery life is around a week) which also houses a SIM card. You top this up with £10-worth of credit to activate, and then set up your own phone to be sent text alerts every time the bike is tampered with
The tracker can also be viewed live online at back2youtracking.com which links to Google Maps to pinpoint where your bike is. Or in the event of them just nicking your Guardian, where that is instead!
Verdict: Easy to set up, easy to use, did exactly what was asked of it. Plus you get a fully functioning rear light all in an 80g package. 9/10 
Buy now from Back2You for £125
2. Spybike Top Cap Tracker
What they say: Covert and secure devices to provide you with peace of mind that your bicycle can be traced if stolen.
What we say: This American company provides three different devices to protect your bike. A rear light, a seat post, and a steerer tube mounted option, all of which contain a GPS tracker twinned with a phone-style SIM.
Of these, we reckon either this or the seat post mounted unit represent the most secure.
To fit it, you'll need a modern A-headset style headset and steerer. Designed to be very difficult to remove once in place, it'll notify you by text message if your bicycle moves while allowing you to follow it's location via live online tracking.
Using GPRS to provide GPS positioning that's accurate to between 5 to 25 metres, if your bike is taken inside it'll provide a fallback GSM position to within 200 metres.
With a pre-pay SIM card included, no contract is required although you'll need to pay $4.50 a month for the tracking feature. With the company based in the US, shipping to the UK will cost an additional $8.
Topped up via a USB cable, the unit's lithium battery should last months between charges, assuming you remember to deactivate it before riding.
Verdict: Once fitted, the Spybike's location is unlikely to be discovered. However, you'll need to take on a contract with a company across the Atlantic. 7/10
3. Velocate
What they say: Leaving your bike without concerns? Safety first With Velocate!
What we say: Made by Germans, this is a device that is aimed principally at bikepackers and e-bike owners.
With a choice of fitting locations – to your seatstay, just below your saddle or mounted to the rear of a pannier rack – this GPS tracker is secreted inside a pretty decent rear light unit.
Working in much the same way as other devices here by linking the tracker to a free app on your smartphone, the motion sensors on board will detect when your bike is being tampered with.
It will then send push notices to your phone via Bluetooth as well as allow you to track your bike's location and movements using Google Maps.
This wins further approving nods from us for the way it's powered – although it can be recharged via a USB port, it doesn't rely on this and instead it can be kept juiced up via a dynamo (as well as an e-bike battery) meaning that as long as your bike is moving, the GPS won't run out of power.
Weighs in at around 100g. Although prices start at around £130 that only includes one year's worth of online tracking. If you pay £212, however, you'll get a lifetime's worth.
Verdict: Its looks gives this limited appeal but the dynamo connection makes for a great long-term solution. 8/10
4. Sherlock
What they say: Keep your bike safe with Sherlock, the invisible GPS anti-theft device for bicycles designed to give you the peace of mind you were looking for.
What we say: This works in conjunction with the free-to-download Sherlock app (available for iOS or Android).
Once the app is launched, create a bike profile, adding a picture of your bike, the frame number, and details such as make and model and then pair it to the GPS.
You then install the device in your bars. As the 11.5cm, 40g plastic tube is flexible it'll work with most drop and straight handlebars (you can check online). Simply pop your bar end and slide the GPS in.
We found the fit to be snug (so no rattling about) with the integrated bar end keeping things firmly in place. There's even a twin bar end included in the box so you can match things up on the other side.
The device is charged via the USB port and cable with a single two-hour charge providing around two-weeks' worth of juice. You then simply activate  Sherlock via the app whenever you leave your bike unattended. 
You'll be sent an alert if the bike is moved and you'll be able to track where it is via the wonder of Google Maps.
Two year's worth of internet connection is included in the price with a £2.50 per month subscription kicking in from the third year.
Verdict: A little on the fiddly side but once fitted is a cinch to use – as long as you remember to activate it. 8/10
5. The Tile Sport
What they say: Engineered for the sport of life, Tile Sport is rugged, waterproof and our most powerful Bluetooth tracker yet.
What we say: Rather than working off of a GPS signal this uses Bluetooth to connect the tracker to a free app (either iOS or Android) on your phone.
As such the range this device works at as limited to 200ft – although that signal can be extended.
Simply select the 'Notify When Found' option on the app and any other Tile users (there are 10 million worldwide) in the vicinity of your missing Tile who have the app open on their phone will anonymously send you a notification relaying its location on Google Maps.
The device its non-rechargeable but once activated will last a claimed 12 months. After that, you can replace the Tile at a cost of roughly half what you paid for the original.
The Tile is about the size of a large coin, weighs in at 15g and can be discreetly attached to the underside of your seat post with a cable tie.
As the budget option here it does have its drawbacks but could prove a smart solution at busy sportives or crowded parking facilities when you're struggling to locate your bike.
Verdict: The relay signal is a smart response to the device's limitations, but this is essentially a budget option. 7/10
6. Boomerang Cyclo Trac
What they say: Peace of Mind. Anywhere. Anytime.
What we say: A properly chunky device that a thief won't fail to notice (and then should accordingly be put off by) this attaches under a downtube bottle cage.
The self-contained device has multiple sensors and an alarm that will send out a loud, shrill sound when your bike is tampered with.
A text message is then sent to any phones that you have set up to be contacted in the event of a theft, and you can then track its movements in real time via Google Maps online.
Although theft protection and tracking is its primary purpose, this can also give you bike-computer-style feedback on things like your calorie burn, distance ridden, and elevation.
Weighing in at 145g, it has a rechargeable battery that lasts around 10 hours on a single charge.
The price includes a year's worth of internet connection with a £3.80 a month subscription thereafter.
Verdict: The alarm should be enough to put thieves off, though the limited battery life is a bit of a drawback. 7/10